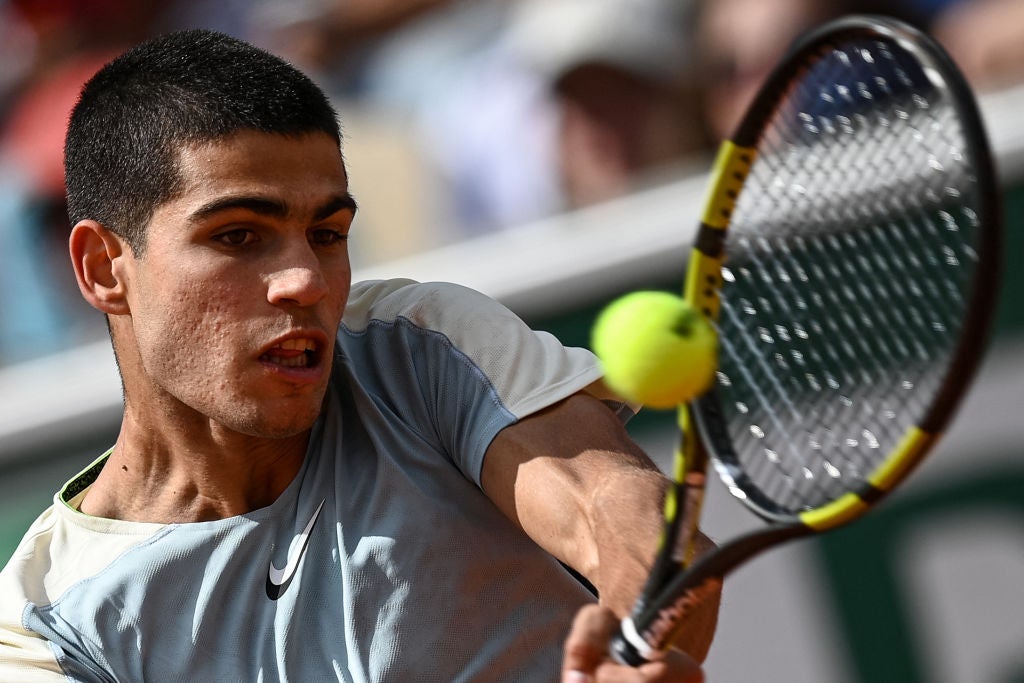 US Open champion Raducanu gears up on eve of French Open campaign
Follow live updates as the second round of the French Open gets underway at Roland Garros. Emma Raducanu's journey is over, though, after a three-set defeat to Aliaksandra Sasnovich in the opening match at Court Suzanne-Lenglen. Raducanu edged the first set but was ultimately overwhelmed by an inspired Sasnovich, who hit an incredible 45 winners in wrapping up a 3-6, 6-1, 6-1 victory in a little over two hours.
It kicks off a packed day of action at Roland Garros, espcially in the men's draw with Rafael Nadal, Novak Djokovic and Carlos Alcaraz all in action today. Nadal will highlight the night session of Philippe Chatrier as he takes on France's Corentin Moutet, who knocked out former French Open champion Stan Wawrinka to reach the second round. Djokovic continues his grand slam return against Alex Molcan while Alcaraz faces compatriot Albert Ramos-Vinolas in an all-Spanish contest. Follow live updates from the French Open, below:
1653500321
Ramos-Vinolas 1-6, 7-6, 7-5, 6-7, 1-0 Alcaraz *
Magic from Alcaraz! He slides into a winner to move to 0-30 as he hunts the early break of serve in the fifth, but stretches on a backhand return as Ramos-Vinolas gets back to 30-30. Somehow, Alcaraz manages to navigate Ramos-Vinolas angles, before his opponent finds the winner. That's an important hold from Ramos-Vinolas.
Jamie Braidwood25 May 2022 18:38
1653499863
Ramos-Vinolas 1-6, 7-6, 7-5, 6-7 Alcaraz
Alcaraz slides into another winner to move two points away from the fifth – and as he rushes into the net to put away the smash, he moves even closer!
Four set points – and he only needs one as Ramos-Vinolas sends his return long! From match point down, Alcaraz battles on! What a match this has been!
Jamie Braidwood25 May 2022 18:31
1653499612
Ramos-Vinolas 1-6, 7-6, 7-5, 6-6 (2-4) Alcaraz
Alcaraz comes into the net and puts away the smash at the second attempt to win the first point of the tie-break, before Ramos-Vinolas responds with a strong serve down the middle. Ramos-Vinolas drops a shot into the net to offer Alcaraz the early mini-break, and then Ramos-Vinolas blinks again as he goes long for a second consecutive error.
Alcaraz goes long himself to offer the mini-break back to Ramos-Vinolas – before Alcaraz slides into the forehand winner down the line to move into a 4-2 lead!
Jamie Braidwood25 May 2022 18:26
1653498680
Ramos-Vinolas 1-6, 7-6, 7-5, 6-6 Alcaraz
Alcaraz pulls off a stunning passing shot on the backhand to get the first point on the Ramos-Vinolas serve – what a winner! Ramos-Vinolas responds with a clipped winner of his own, sending Alcaraz the wrong way, but then pushes wide as Alcaraz gets a chance at 15-30.
Ramos-Vinolas goes wide on the serve as Alcaraz nets, but Ramos-Vinolas then goes long with an unforced error to bring up set point for Alcaraz! It's a brilliant play from Ramos-Vinolas, who finds the angle to put Alcaraz on the back foot and save it. Alacarz steps in and crushes the backhand winner, but Ramos-Vinolas stays aggressive and sends Alcaraz chasing!
Ramos-Vinolas finds himself with three game points but can't shake off Alcaraz, who saves on each occasion. A disguised volley into the corner brings it back to deuce and from there, Alcaraz pushes Ramos-Vinolas into the corner with his backhand! Another set point.
And again, it swings back to Ramos-Vinolas, as Alcaraz nets and then goes long on his forehand. Unbelievably, Alcaraz retrieves an impossible ball and clips the baseline! Ramos-Vinolas, finally, edges back ahead as Alcaraz goes long and then the backhand on the second serve hits the net! We go on, but what a game that was.
Jamie Braidwood25 May 2022 18:11
1653498493
* Ramos-Vinolas 1-6, 7-6, 7-5, 5-6 Alcaraz
Alcaraz clips the net with a volley as the crowd shrieks, and the 19-year-old uses his good fortune to quickly move to 40-0. Ramos-Vinolas hits a clean winner off Alcaraz's second serve, but Alcaraz responds with a winner down the line to the front in the fourth! After having a match point in the last game, Ramos-Vinolas will now need to hold serve to stay in the set.
Jamie Braidwood25 May 2022 18:08
1653498214
Ramos-Vinolas 1-6, 7-6, 7-5, 5-5 Alcaraz *
Alcaraz wins the first point on Ramos-Vinolas' serve but then chucks in an unforced error – his 58th of the match – with a backhand that goes long. He then runs around a backhand to unleash a clean winner past Ramos-Vinolas and move to 15-30, and then has a chance at the net but drops it into the net with Ramos-Vinolas stranded!
Ramos-Vinolas blinks with an unforced error at 30-30 and the crowd responds as Alcaraz asks for more noise on break point! The umpire asks them to settle and this time it's Alcaraz who goes long on the return, a gift for Ramos-Vinolas!
A forehand winner from Romas-Vinolas brings up a match point! His serve out wide is inches away from the line, but then nets with a forehand! The tension is mad at 5-40-40 in the fourth!
What a smash from Alcaraz! With Romas-Vinolas on the defense, the 19-year-old crushes a winner into the corner! Another break point … and Ramos-Vinolas nets again! Alcaraz survives and on we go!
Jamie Braidwood25 May 2022 18:03
1653497696
* Ramos-Vinolas 1-6, 7-6, 7-5, 5-4 Alcaraz
While Djokovic was progressing comfortably to the third round, Alcaraz has been locked in a battle with compatriot Ramos-Vinolas. You wouldn't have predicted that after the Miami and Madrid champion raced into an early lead with a 6-1 first set, but Ramos Vinolas hit back to the edge in both the second and third sets.
Ramos-Vinolas was a break down in the fourth but he responded and has broken Alcaraz in the ninth game of the fourth! He will serve for the match next.
Jamie Braidwood25 May 2022 17:54
1653497035
Djokovic 6-2, 6-3, 6-6 (7-4) Molcan
Molcan finally rose to the occasion in the third set but that was pretty comfortable from Djokovic, who looked close to his imposing best early in the match.
A happy Djokovic tells Marion Bartoli (in French): "I'm always happy to play on Court Suzanne-Lenglen. Thank you for your support. It was a difficult match in difficult conditions. I have a lot of respect for Alex. "
Jamie Braidwood25 May 2022 17:43
1653496736
Djokovic 6-2, 6-3, 6-6 (7-4) Molcan – Game, set and match!
Molcan gives up an easy one as they nets on Djokovic's serve – only for Djokovic to frame a forehand and send a wild shot into the crowd.
Molcan's serve kicks up for Djokovic but he steadies, and then Molcan drops another into the net as he smashes he racket in frustration.
It brings up three match points. Molcan saves the first as he switches it up with a drop-shot, as Djokovic slides into the net, but there's the win! Molcan nets from out wide as Djokovic gets the job done!
Jamie Braidwood25 May 2022 17:38
1653496288
Djokovic 6-2, 6-3, 6-6 (4-2) Molcan
This is great stuff from Molcan now. Djokovic does brilliantly to chase down a couple of smashes before Molcan drops the volley into the open court.
Djokovic responds with an ace and then wrong-foots Molcan to move 2-1 ahead.
Djokovic blinks on the forehand side, but Molcan then clips the net with the forehand pass! There's the mini-break at 3-2 to Djokovic.
Djokovic then puts away a smash, at the third time of asking, to head into the change of ends 4-2 ahead.
Jamie Braidwood25 May 2022 17:31